[ad_1]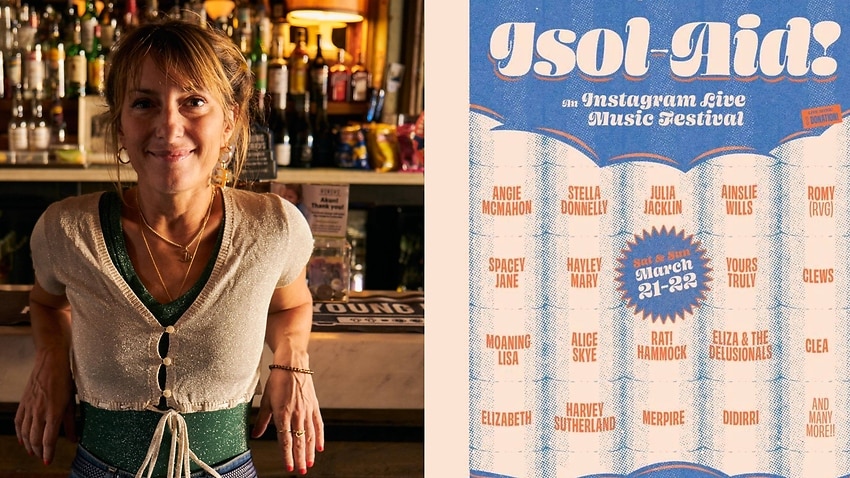 Dozens of self-isolating Australian musicians have banded together for a "socially (media) distanced music festival" this weekend.
'Isol-Aid' will see 72 Australian musicians live-stream themselves playing a 20-minute gig on Instagram as part of an effort to raise funds for those in the country's coronavirus-hit music scene.
From noon AEDT until midnight on Saturday and Sunday, artists "will play a 20-minute set streamed live on their Instagram accounts, and then tag-team the next artist to play, sending fans down a rabbit-hole of new music discovery".
Access to the performances is free, though viewers are encouraged to purchase music or merchandise from the artists involved or donate to a fundraiser set up for Support Act, a charity providing relief services to people in the music industry facing hardship.
Event co-organiser, Melbourne-based singer-songwriter Emily Ulman, said the festival was initially going to be a one-day event, but it was extended to two days after an "incredible response" from people wanting to get involved.
"The Australian music industry is so incredibly supportive and symbiotic. Everybody just wants to help and support each other," she said.
"That's what makes this country's arts community so special."
Isol-Aid will see performances from the likes of Julia Jacklin, Stella Donnelly and Angie McMahon, as well as from Ulman and co-organiser Merpire.
The coronavirus pandemic has seen various festivals, concerts and arts events cancelled across the world, creating a ripple effect of income loss for artists.
The Australian arts industry has seen estimated losses of $150 million in revenue, according to I Lost My Gig, a website that has been tracking event cancellations and postponements.
Ulman said the effects have been "absolutely devastating"
"Gigs are being cancelled, tours are being cancelled and venues have restrictions on how many patrons can attend. Musicians rely on being able to perform to pay the rent and eat," she said.
"Booking agents have no work because artists aren't performing. Mangers then don't have work, nor do venues.
"Across the board, it is so bleak … it could really decimate our industry. We have to get creative."
Arts Minister Paul Fletcher met with leaders from various arts bodies on Tuesday to discuss some of the challenges that have stemmed from the pandemic.
"It is clear that COVID-19 presents significant issues for our arts organisations – and like all Australians, they are showing great community spirit in calmly and efficiently dealing with the circumstances they are facing in the near-term so we can come through this challenging period," Mr Fletcher said.
Ulman said she and other organisers are already taking bookings for an 'Isol-Aid 2' on 28 March.
"The demand has been just incredible," she said.
"It's so uncertain as to when [the virus] might end, so this might be the new normal for a while."
Isol-Aid runs 21-22 March on Instagram.
[ad_2]